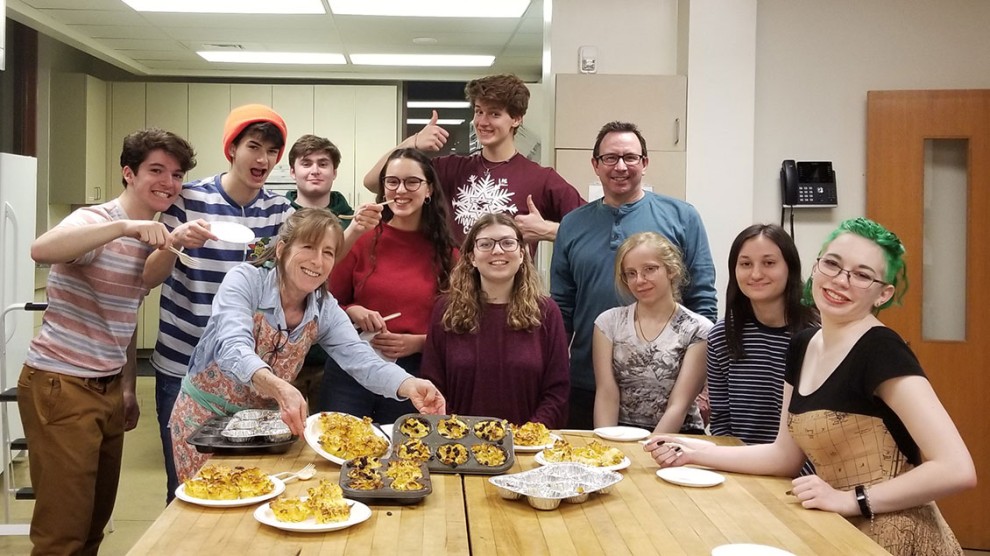 "ATTENDING Midrasha for the past five years has had a tremendous impact on me. I never could have predicted how much the program would allow me to grow as a Jewish person." ~ Illana Greenspan, Midrasha graduate '20
"LEARNING from strong Jewish leaders of all walks of life has given me a lot of perspective on the different ways to incorporate Judaism into my life, and to how to stay connected to Judaism especially as I enter adulthood." ~ Jack Maloney, Midrasha graduate '20
---

It is now time to register for the fall semester of Midrasha. The community of Madison is fortunate to have a robust and innovative Hebrew High School program for teens in grades 8-12. We are planning to meet in person this fall as long as it is safe to do so. We know our teens are eager to get together and we can't wait to see everyone! The first night of Midrasha is Wednesday, October 6. Register Now >
If you are not already taking advantage of this opportunity for Jewish learning and connection, here are a few reasons why it's time to enroll your teen:
NEW ELECTIVES
We have three amazing opportunities for our students this year! The following four courses will be offered as electives this fall:
TZELEM (A space for LGBTQ+ teens and allies) - The Tzelem program focuses on topics such as healthy relationships, stress, belonging, and identity; sessions also include opportunities to meet other teens and Jewish trans adult mentors and to discuss issues around transition and gender expression. The teens explore the issues through games, art, discussion, and by drawing on Jewish teachings. This program connects Jewish wisdom to social-emotional learning and contemporary understandings of gender and identity to help Jewish youth figure out who they are, develop a moral compass, and relate to others with compassion and respect.
JUDAIC ARTS - Learn why and how we use Jewish ritual objects and create your own.
RIKUDEI AM - Israeli folk dance lead by our new Community Shlichim, Hanna and Oz.
Deep Jewish Learning
We are constantly reviewing and improving our curriculum to offer meaningful content that creates the building blocks of Jewish literacy. Our master educators will share their knowledge and help students explore their Jewish identities.
Learning from Our Community's Clergy and Educators
Our teachers include clergy from each congregation and Chabad, professional Jewish educators and other local leaders. This is a can't miss this opportunity for students to connect with these mentors and educators.
Connection to Jewish Teens
We know that the number one indicator of future connection to Judaism and strong Jewish identity is having Jewish friends! We understand the importance of developing relationships between students and will be adding new opportunities for students to strengthen their relationships to one another.
A Safe Space to Process Global and Local Events
Our teens are constantly confronted with the complexity of today's world and especially antisemitism. Midrasha offers a safe space for teens to reflect on current events and share their experiences with other Jewish teens
The Opportunity to Envision Jewish Life Beyond the Classroom
Our goal is to create life-long learners who have a strong sense of self and are ready to go out into the world and live their Jewish lives. Our students know there is more to Judaism than just becoming b'nai mitzvah. Our incentive programs encourage students to continue their Jewish learning and exploration.
The Midrasha Incentive Award
We are in the process of updating the eligibility requirements for this award to make it more accessible. Eligible students can receive a reimbursement of up to $2,000 toward Jewish experiences and learning after high school. This benefit to our students is made possible through a gift in memory of Laurence Weinstein.
Don't miss the opportunity to be a part of the Midrasha program.
I look forward to the opportunity to learn with and connect to your students. Please reach out to me with any questions or curiosities about the Midrasha program. I look forward to speaking with you!
Kendra Sager, RJE
Director, Midrasha Hebrew High School
midrasha@jewishmadison.org
---

"I JOINED the Midrasha program in the beginning of 8th grade and I could not have made a better decision." ~ Jaren Bresnick, Midrasha graduate '21
"MIDRASHA has been a place where I felt comfortable and was able to learn more about who I am my Jewish history and heritage. I was also able to make so many friendships with people and connect in new ways." ~ Yael Rosenblatt, Midrasha graduate '21